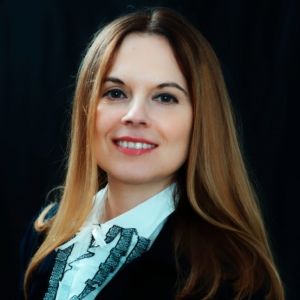 Flavia Kenyon
Flavia Kenyon is a leading British barrister with The 36 Group. She was born in Romania, studied at Oxford University and was called to the Bar of England and Wales in 2005.
Flavia holds an impressive and varied portfolio of national and international cases and has appeared in many high-profile trials over the years, including the biggest UK cyber phishing fraud case to date.
Flavia's expertise focuses on cyber litigation, and the legal challenges arising out of the intersection of existing laws and rapidly advancing technology: cyber attacks including ransomware attacks, cyber surveillance, data breaches, disinformation, and deepfakes. Flavia has developed experience in related regulatory issues emerging from new technologies, such as blockchain and distributed ledger technology ('DLT'), and cryptoassets.
A strong and passionate advocate, inside and outside court, she is often invited to speak on the topic. In 2020 she addressed the BBC Technology and Development department on cyber attacks and integrity of content with particular relevance to journalists, and media organizations (regarding ransomware attacks and cyber surveillance).
Flavia is the author of many articles and of a monthly blog called '36 Cyber Bites'.
Flavia is recognised as a leading individual in both Chambers and Partners and The Legal 500.
More information about Flavia can be found at:
https://36group.co.uk/members/fk