DigitalXRAID launches OrbitalX portal to give customers control of their security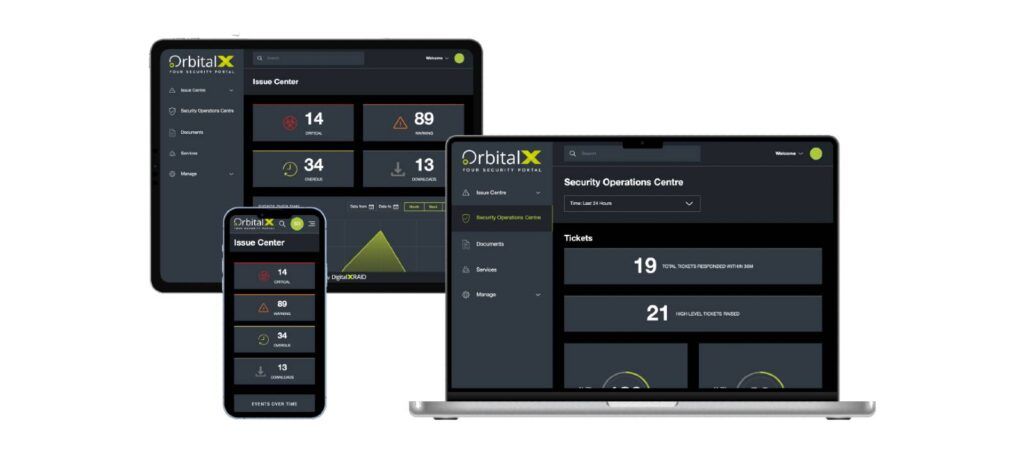 The portal aims to provide customers with a more holistic view of their services and tools to better manage and report on their organisation's cyber hygiene
DigitalXRAID, the award-winning managed cybersecurity solutions provider, today announced the launch of its new security portal, OrbitalX. Designed to address the gap between how services are delivered, and how issues and vulnerabilities are addressed in a timely manner, the portal acts as a central hub for customers to see and manage all their DigitalXRAID security solutions, and provides them with the visibility they need to re-gain control of their cybersecurity.
A recent PwC survey found that 76% of executives report too much complexity in their technology and data environments. By giving cybersecurity teams a clear, consolidated view of their cyber priorities, OrbitalX aims to reduce this complexity and acts as a window into the outsourced Security Operations Centre (SOC), showcasing its value to customers. This new solution from DigitalXRAID also contributes to organisations' protection from cybercrime, by going beyond penetration testing and service tickets; it connects all three pillars of cybersecurity – offensive, defensive and compliance – in one central repository.
The portal's functionalities allow for the creation of bespoke and automated reports, making it easier for teams to articulate the value of cybersecurity to a variety of stakeholders – including internal and external auditors or insurers – and for Board members to clearly understand the ROI of their cybersecurity strategy. In this way, OrbitalX helps foster greater collaboration between security managers and senior leadership teams, as they build a roadmap to complete protection.
"Many enterprises are using SIEM platforms, but these are very much geared towards the technical security professional. What's more, the User Interface of these types of portals is rarely user friendly and further complicates what is already a complex environment," comments Rick Jones, CEO at DigitalXRAID. "The OrbitalX platform addresses these issues and makes real-time threat intelligence digestible for the whole company. The high-level visibility it offers to customers not only makes security more actionable, but also gives IT teams peace of mind, knowing their cybersecurity posture is strong 24/7/365."
Launching today, OrbitalX is a platform that will evolve with customer demand and aims to support organisations of all sizes in the ever-changing risk environment. The development of the solution has been made possible with funding from Business Doncaster.
About DigitalXRAID
DigitalXRAID is an award-winning managed security services provider dedicated to providing its clients with state-of-the-art cybersecurity solutions. It specialises in Vulnerability Management, Threat Intelligence, Information Security, PCI-DSS, Penetration Testing, Managed Security Services, Security Consultancy, and offers a fully managed Security Operations Centre (SOC) for complete cybersecurity protection. It is one of the few industry specialists to hold both CHECK and CREST certifications alongside Cyber Essentials Plus, IASME Gold Standard, ISO 27001, ISO 20000 and ISO 9001 accreditations.