20 Mar 2023
Stamus Security Platform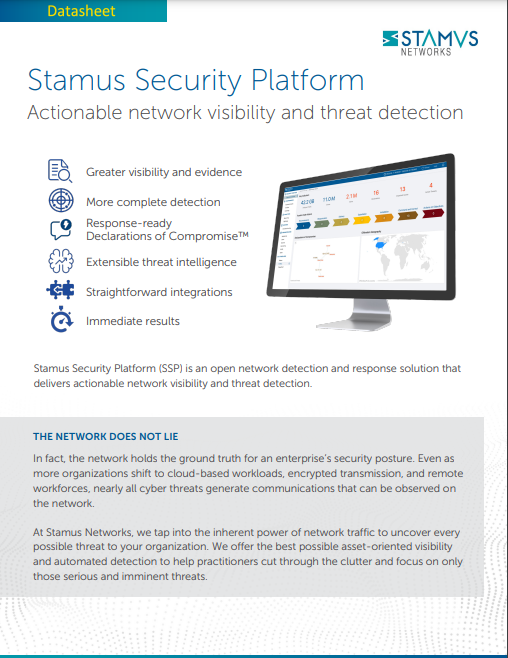 Enterprise security teams use Stamus Security Platform for automated detection, proactive threat hunting, incident investigation and IT policy enforcement. Ultimately, the system helps security (SecOps) and network (NetOps) operations teams:
Reduce your organization's risk - uncover known and unknown threats to critical assets from your cloud and on-premise networks.

Eliminate network blindspots - monitor north-south as well as east-west traffic with Stamus Network Probes at all critical points in your cloud and on-premise networks.

Eradicate alert fatigue - the system notifies incident response systems and personnel only when urgent and imminent threats are identified.

Reduce the workload of your SOC analysts - focus your valuable staff on proactive security measures, rather than pouring through 1000s of alerts.

Dramatically accelerate incident response - quickly investigate potential issues with transparent, explainable results, backed up with extensive evidence.

See results immediately - Stamus Security Platform is easy to install, configure and integrate with other elements of your security tech stack.

Extend your capabilities - leverage third-party threat intelligence and rulesets; and easily transform a threat hunt into custom detection logic.

Uncover hidden threats -because even the most advanced system cannot automatically detect everything, Stamus Security Platform comes with integrated guided threat hunting that simplifies proactive defense for less-experienced analysts.